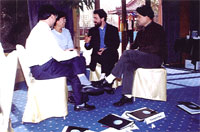 Successful Negotiation according to the Harvard-Concept

Everybody negotiates almost daily in professional as well as in private life. Inept and untrained negotiation causes unplanned results. You do not proceed and some opinions seem to be insuperable. The participants will learn to solve a problem from the opponent's point of view by asking the right questions, by using successful methods and strategies and by listening and watching carefully. The aim of a successful negotiation is to reach efficient results that are of mutual benefit without "fights of status" or loss of face.


In particular, this seminar enables the participants:
to correctly assess the negotiating partner
to recognise unfair negotiating strategies
to protect oneself from those strategies
to carry on the negotiation according to "Win-Win" for mutual benefit
to develop negotiating strategies
to recognise and use the own negotiating style as well as that of the partner
to develop a talent for repartee
to react to "fatal phrases"